Heerema wins Hejre oil and gas field contract offshore Denmark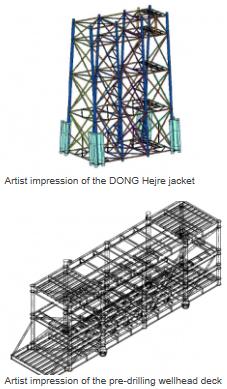 Heerema Fabrication Group (HFG) in the Netherlands has received the contract from Technip France for the Procurement and Fabrication of the DONG Hejre jacket, piles and pre-drilling wellhead deck destined for the Hejre oil & gas field located in the central part of the North Sea offshore Denmark.
The contract consists of a 8-legs launch jacket, with a length of 60 m, a width of 35 m and a height of 85 m, destined for the Hejre platform operated by DONG Energy in Denmark. Furthermore, the contract includes the piles and a pre-drilling wellhead deck.
The consortium DSME-Technip will be responsible for the topsides with fabrication in Korea at the DSME (Daewoo Shipbuilding & Marine Engineering) yard.
Preparations for the fabrication of the 8,000 tons jacket, piles and the 500 tons pre-drilling wellhead deck started in January 2013 at the Heerema Vlissingen yard.
The jacket, piles and pre-drilling wellhead deck are scheduled for completion and installation in the first half of 2014 and subsequent installation by sister division Heerema Marine Contractors. Hereafter drilling will commence followed by the topsides installation in 2015.
Tino Vinkesteijn, Chief Commercial Officer of Heerema Fabrication Group, says: "Securing this contract can be considered particularly important for the employment in this region of the Netherlands during these challenging economic times. Also thanks to the current project at hand, employment at our Vlissingen location can be guaranteed until mid 2015. Execution of this project will provide substantial employment in Vlissingen for more than 200,000 man hours, with additional supply-chain jobs being created for other companies across this region and the Netherlands."
Remco van Gilst, Senior Vice President Commercial of Heerema Fabrication Group, adds: "We look forward working together with Technip on the contract execution. The relationship between HFG and Technip is a spin-off from the well-established EPC (Engineering, Procurement and Construction) relationship Heerema Fabrication Group developed on numerous projects with Genesis, part of the Technip organization. With the award of the DONG Hejre jacket, being the first launch jacket built at our Vlissingen yard, we have positioned ourselves in the market segment for launch jackets."
The Hejre oil & gas development is located on the Danish North Sea in 70 meter water depth. It is expected that the platform will be operational in 2015.
The Hejre development is an interest of 60% DONG and 40% Bayerngas.