Cairn India discovers new prospect in offshore Ravva block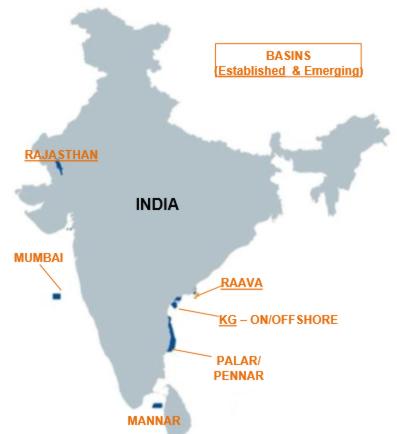 Cairn India and its joint venture partners in the oil and gas producing Ravva block in the East Coast have discovered a new prospect in the existing fields. The new area is expected to see hydrocarbons flow in the next three-four years.
According to estimates, the LO-110 prospect holds 368 billion cubic feet (10 billion cubic metres) of 'recoverable gas' and 16 million barrels of 'condensate', which is similar to light stabilised crude oil and used as feedstock for oil refining and other petrochemical industries.
An official associated with the development said if all goes as planned to develop the LO-110, then the first round of gas production is likely to come by 2016-17. The LO-110 is likely to produce until 2022-23. The Ravva block has been into production for 19 years.
According to industry observers, though this would be termed a moderate discovery, it will add to the domestic production and to some extent reduce dependence on imports. Besides, domestically produced gas is cheaper than imported gas.
The natural gas demand in India is about 125 million standard cubic metres a day (mmscmd), of which 93 mmscmd is met from domestic production and 25-30 mmscmd through imports. At present, gas demand in India is linked to availability.
Cairn had reported that in the last quarter of the current fiscal, Ravva had produced 29,151 barrels of oil equivalent a day (both oil and gas). Of this, 39 million standard cubic feet was gas.
Cairn (22.5 per cent) and its partners – Marubeni-owned Ravva Oil (12.5 per cent), Videocon (25 per cent) and ONGC (40 per cent) – will take at least three months to drill the exploration well in the new area. According to analysts, Cairn India's confidence at the LO-110 is based on re-interpretation of 280-sq km 2D shot in December 2009.
If Cairn's campaign is successful, then the LO-110 is expected to yield 32 per cent internal rate of return (IRR) for the 'full field life' or until 2022-23. The development plan will be finalised after the exploration and appraisal wells are drilled and results analysed, another official said.
Earlier this fiscal year, the Ravva Operating Committee approved Cairn India's proposal to drill one exploratory well and two 'contingent' appraisal wells. Cairn is confident of the field's considerable remaining reserve potential and of producing more oil from this block. This has been possible only through life-cycle planning, continuous monitoring and the innovative application of operating technologies.