NuEnergy reports first gas flows at Muara Enim pilot well 2 in South Sumatra
NuEnergy Gas has announced the successful completion of its Muara Enim Pilot Well #2 at the Muara Enim Production Sharing Contract (PSC) Pilot Production Site in South Sumatra, Indonesia. Pilot Well #2 is located approx. 500 metres from Pilot Well #1 which has produced gas for over 300 days.

First gas flows from the Pilot Well #2 coal seams were revealed during finalisation of well completions. NuEnergy successfully installed fishbone completions across the J and L coal seams and installed pre-perforated casing across the H, J and K coal seams, all with a view to enhance
well productivity. The permeability testing unit for Pilot Well #2 has been mobilised to site and permeability testing is underway. The well is also being prepared for connection to the pilot production plant.

NuEnergy's Pre Plan of Development application for the pilot production site going to early production and gas sales is currently being processed and finalised by Indonesia's upstream oil and gas industry regulator, SKKMIGAS.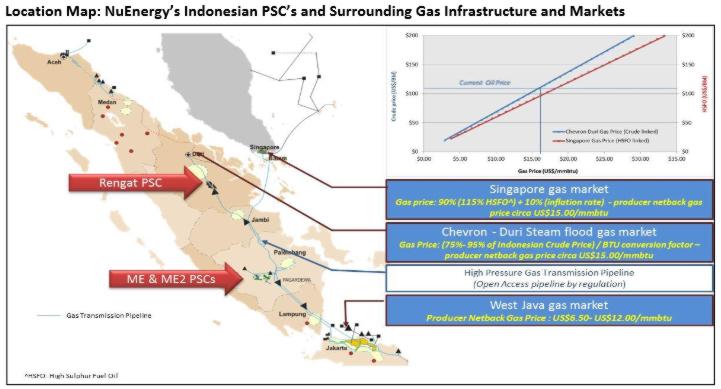 NuEnergy's Chief Executive Officer Christopher Newport commented: 'Early gas flow, following the successful completion of our second pilot well at the Muara Enim PSC, provides further confidence that the project is progressing towards becoming a viable gas production site that can produce cash flow for the business. The company is now focused on reaching the next step in the well's development with coal permeability testing underway and connection to the pilot production plant shortly thereafter.

NuEnergy continues to enjoy the support of its project Joint Venture partner PERTAMINA, Indonesia's national Oil Company, and together we are committed to the long term development of Muara Enim PSC. We look forward to updating shareholders on our progress and NuEnergy's
broader exploration and corporate initiatives.'