Pertamina begins operating Siak Block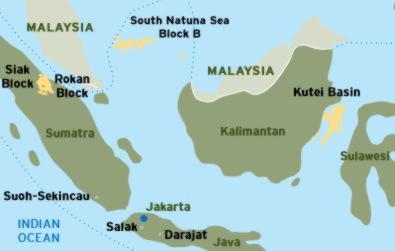 Pertamina (Persero), through its subsidiary Pertamina Hulu Energi, has officially begun operating the Siak Block, located in Riau Province, following the expiration of the contract between the government and Chevron Siak Indonesia.
The change of the operator of the Siak Block was marked by the signing of a production sharing contract (PSC) between PHE Siak, represented by PHE Siak President Director Bambang Kardono, and SKK Migas, represented by SKK Migas chief Johannes Widjonarko, and was approved by Energy and Mineral Resources (ESDM) Minister Jero Wacik. Pertamina Upstream Director M. Husen and PHE President Director Ign. Tenny Wibowo also witnessed the signing on Monday (26/5).
PHE Siak officially begins operation after the handover of three fields which was done at 00.00 Western Indonesia Time (WIB) on Wednesday (28/5). The handover was started by a 'ticker handover', key handover and SOP guideline as well as the opening of the new Lindai Collecter Station by PHE President Director.
'This is a very important moment. After being discussed for six months, finally, the Siak Block, located in Riau Province, has been officially taken over by PHE Siak. The production of the block currently reaches 1,800 BOPD. By owning 100% share in the block, which comprises Lindai field, Batang field and South Menggala field, we hope that the block can contribute in our effort to increase Pertamina and PHE's production,' said M. Husen on Monday (26/5).
Husen added, 'After the handover process, we will start working to understand the characteristic of the fields and then focus on increasing production.'
Currently, PHE oil production as operator reaches 116,000 bopd (with PHE's portion of 68,000 bopd). With the entrance of the Siak Block, PHE is expected to boost production to 71,000 bopd.
M. Husen expressed his high appreciation to Chevron that had shown strong commitment in maintaining the operation and production in the six month transition period since 27 November 2013 to 27 May 2014. 'Within that period, we have also built good cooperation between PHE and Chevron so that the Siak Block handover process can be done smoothly.'
In the same occasion, Tenny Wibowo, PHE President director, said that his company was committed to increase production in the Siak Block. In the first year, he targeted that oil production could hit 2,000 bopd. 'We're also optimistic that we're able to increase production and committed to continue looking for new resources to support efforts to increase production,' he explained.