The South African government plans to build 12 liquid fuel bulk terminals in the next 25 years to cope with the country's soaring energy needs, a senior ports official said.
The proposed construction at four of the nation's eight harbors would give South Africa additional options should plans to build an oil refinery fail to materialize, said Hamilton Nxumalo, general manager for planning, maintenance and capital projects at state-owned Transnet SOC Ltd.'s National Ports Authority.
The port of Ngqura, in the Eastern Cape province, was favored to house the refinery, he said. Mthombo, which would be the sub-Saharan region's biggest such facility,would have capacity to process 300,000 barrels daily and would raise the country's fuel-handling ability by 43 percent from 703,000 barrels a day now.
"Space constraints at the key liquid fuels ports of Durban and Cape Town mean we have to look elsewhere, and Ngqura appears the most suitable," he said Wednesday at the Argus Africa Storage and Logistics 2015 conference in the Indian Ocean harbor city of Durban. Even so, he said no decision has been taken on Mthombo, which has an estimated cost of 15 billion rand ($1.12 billion).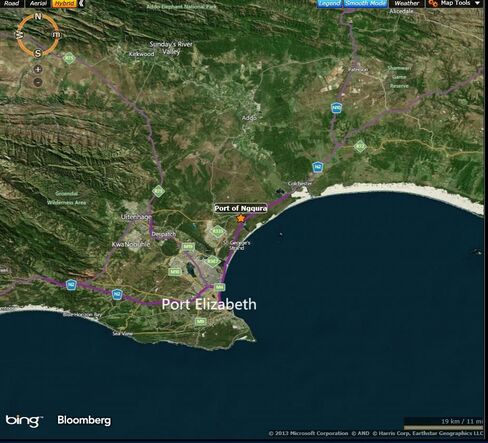 The country had said that PetroSA Ltd., the state-owned oil company, would work on Mthombo with China Petroleum & Chemical Corp. as diesel and gasoline imports rose on the back of economic expansion, with demand exceeding local refinery output for the first time in 2007. The plan needs restructuring because PetroSA's finances are weak, Energy Department Deputy Director-General Tseliso Maqubela said in August.
Decision Critical
A call on whether to build a new refinery or upgrade existing ones is now critical, Maqubela said Wednesday.
"South Africa is not equipped to deal with a refinery outage, and a decision is needed, especially in view of the time frames and cost implications," he said.
The first of the new liquid bulk berths would be built at Ngqura next year, followed by one in Cape Town in 2019, four in Durban by 2031, and single facilities in Richards Bay in 2035 and Cape Town in 2038. A further four are planned for Richards Bay.
These would complement the existing 16 liquid-bulk terminals -– nine in Durban, two each in Richards Bay and Cape Town, and one in East London, Port Elizabeth and Saldanha.
The country is unlikely to meet a target for its refineries to be able to handle cleaner fuels by 2017, South African Oil and Gas Alliance CEO Ebrahim Takolia said. In 2011, the oil industry estimated it would cost the nation about $3.1 billion for all refineries to comply with Euro 4 fuel standards for gasoline, which contains no more than 50 parts per million of sulfur, or $3.7 billion to meet Euro 5 standards, with less than 10 parts.
"The Euro 6 standards are already being introduced elsewhere, meaning that South Africa is falling even further behind the drive towards internationally accepted standards of clean fuel," he said.