Upstream mega projects to alter global crude routes and refining
By 2025 mega-projects offshore Brazil and Norway will add some 3.8 million barrels per day (b/d) of new crude supply from the Atlantic basin according to Wood Mackenzie's latest outlook. Since most of this crude will be of a similar quality; relatively heavy and sweet, it represents a major opportunity  for refineries in Europe and beyond as they try to maximise margins from these streams.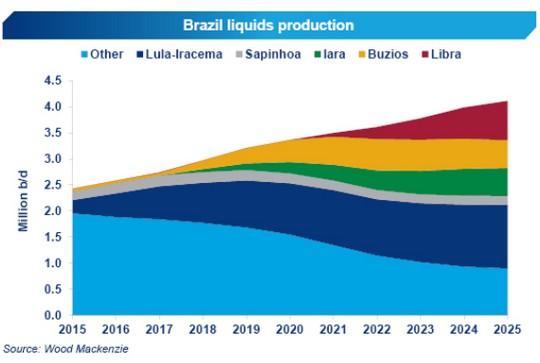 The pre-salt mega-projects in Brazil will produce 3.2 million b/d by 2025 - 78% of all Brazilian production. With Petrobras having cancelled, or delayed many of its refinery expansion plans, domestic refining capacity is expected to reach only 2.5 million b/d that same year. If no further expansions emerge, export markets will therefore be needed for up to 1.8 million b/d of crude by 2025.
While the US Gulf Coast is a natural fit for pre-salt crude, it will end up competing with US crudes and imports from Canada, Mexico, Venezuela, the Middle East and West Africa. Europe, however  notes Wood Mackenzie, has limited capacity for processing heavier crudes.
'As a result, we believe over 1 million b/d of pre-salt crude will flow to Asia by 2025,' says Gordon McManus, research director EMEARC refining and oil product markets at Wood Mackenzie. 'Asian markets are under-served by heavy crude, and their demand is expected to rise.'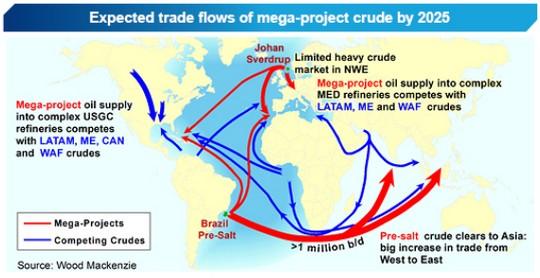 As new supply from North America fills US refineries, Brazilian pre-salt crude will look to Europe. However, it will end up competing with Norway's Johan Sverdrup field which dominates North Sea production after 2020 – one of the largest oil discoveries ever made on the Norwegian shelf.
When Johan Sverdrup production peaks in 2024, total heavy crude supply in northwest Europe will exceed 1 million b/d, while demand will remain close to the current 600,000 b/d explains McManus. Lower shipping costs will favour the Norwegian crude, but the competitive balance will depend on refined product pricing, and how well-matched European refineries are to the new crude streams. This will become clearer once the all-important crude assay data for Johan Sverdrup is released to the market.
Gail Anderson, principal analyst upstream oil and gas at Wood Mackenzie, notes that the dramatic growth in heavier crude availability will influence price differentials in the region.  'We expect pre-salt Brazil and Johan Sverdrup will trade at a 3-4% discount to Brent. Medium and heavy crude discounts to Brent are likely to widen when this heavier supply peaks – benefitting complex refiners. In turn, this would make the Atlantic basin less attractive to Urals and medium Middle Eastern grades which could be diverted east.'