Ecopetrol announces important hydrocarbon discovery in Colombian Caribbean ultra-deepwater
Ecopetrol S.A. informs that at a depth of 3720 meters, the Kronos-1 well verified the presence of hydrocarbons in ultra-deepwater of Colombian south Caribbean area. This discovery proves the geological model proposed for an unexplored area with high hydrocarbon potential.
Kronos-1 is located in block Fuerte Sur, 53 Kilometers (33 miles) offshore, where partners Anadarko, operator, and Ecopetrol, each hold 50% interest.
According to Operator's quarterly operations report, after drilling at a water depth of 1584 meters (5195 feet), the well reached total depth of 3720 meters (12200 feet) and encountered a net pay thickness between 40 to 70 meters (130 to 230 feet) of gas bearing sandstones.  Ecopetrol and Anadarko's integrated technical teams are continuing to evaluate the Kronos discovery results. Nowadays the drilling operation continues, aiming to reach a deeper target to determine possible additional results.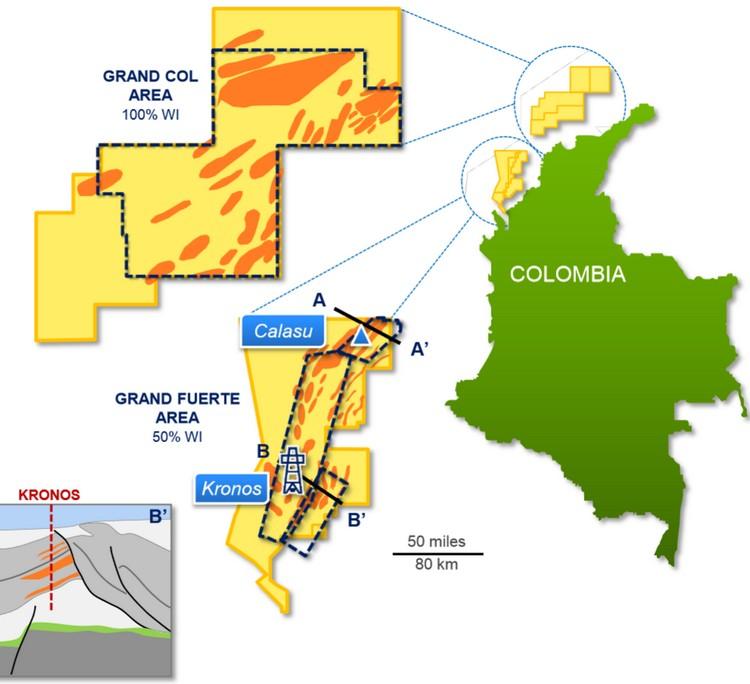 "We are pleased to announce this discovery in Colombian Caribbean deepwater, this time accompanied by Anadarko. This discovery adds to the one accomplished in December at the Orca-1 well, located in the deep water of Tayrona block offshore Guajira, where we are partners with Petrobras, Repsol and Statoil. These results are very important and confirm the potential of the Colombian Caribbean petroleum system in a vast area and are aligned with Ecopetrol´s new strategy, in which one of the key areas is the exploration on high potential marine basins," Ecopetrol president Juan Carlos Echeverry said.
In 2012, the Ecopetrol – Anadarko partnership undertook exploration in the South Caribbean in blocks Fuerte Norte, Fuerte Sur, COL5, URA4 and Purple Angel.
Our partner, Anadarko, is one of the most recognized companies worldwide for its experience in deepwater and ultra-deepwater exploration, project management and execution. Currently Anadarko is executing the biggest seismic acquisition campaign in the history of the Colombian Caribbean with an extension of more than 16000 square kilometers.
Once activities at Kronos-1 are concluded, the drillship Bolette Dolphin, employed in this operation, will move to Fuerte Norte Block to continue drilling Calasu-1 well, located 145 Kilometers or approximately 100 miles north east of Kronos-1.