What gas glut? Russia's Gazprom forecasts growth in Europe
The world's biggest natural gas exporter isn't too concerned about a global glut that will probably last another five years.
Gazprom PJSC is counting on falling European output to boost flows to a record and cement its 30 percent market share, Deputy Chief Executive Officer Alexander Medvedev, 60, said in an interview. After crude's 35 percent slide last year, the company's oil-linked prices are low enough to ward off competition from sources including U.S. liquefied natural gas, which will favor more lucrative markets from Asia to Latin America, he said.
"We've never suffered from euphoria," Medvedev, who once compared U.S. shale gas production with the dot-com bubble, said in Moscow. "We've always based our business on analysis."
Europe will need to source more gas to 2021 as demand rises amid slumping domestic production, the International Energy Agency said last week. While Gazprom managed to maintain its market share in the region over the past five years as North African supply declined, the period through 2018 "will be very different" as a tightening of oil markets from next year makes its fuel less attractive amid competition from "large volumes of cheap LNG," the Paris-based agency said.
Revenue Drops
Gazprom's analysis shows that exports to Europe, the 28 nations in the European Union excluding the three Baltic States together with Turkey, will "undoubtedly" be more than 165 billion cubic meters (5.8 trillion cubic feet) this year, about 4 percent more than in 2015, and stay above 160 billion for at least three years, Medvedev said.
Gazprom has a monopoly on Russian pipeline gas exports to Europe, which earned it $38 billion last year. It's suffering from weak demand in the former Soviet Union as local rivals eat into its domestic market share, while Ukraine, once one of its biggest buyers by volume, cut gas imports amid a contracting economy and price disputes with Russia. The company won't be able to pipe gas to China until it opens its first link there in 2019 at the earliest.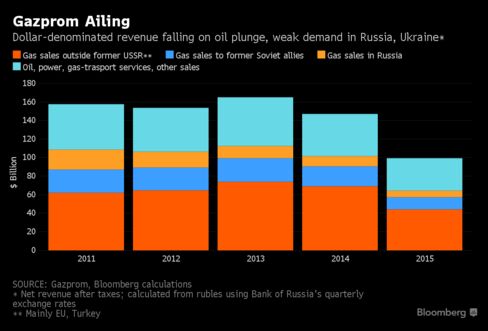 In 2009, Gazprom was forced to rethink its marketing strategy after its prices soared, reflecting a previous jump in crude in a decades-old convention that links the fuels, even as spot rates declined amid increased supplies of LNG and demand damped by the economic crisis. The Moscow-based producer included a market-based component in its formulas and retained clients by making price adjustments and easing rules on how much gas they had to accept.
Russian gas at the German border cost $3.99 a million British thermal units at the end of May, the lowest since September 2004, according to data from the International Monetary Fund. That compares with $4.70 for front-month gas in the U.K., Europe's biggest market.
"We expect Russia to focus on a market share approach to selling gas into Europe," Shankari Srinivasan, vice president at IHS Energy, said by e-mail. As the lowest cost supplier the nation "could compete on price" if it decides to do so, she said.
Gazprom so far sees no need for "structural" changes as it already has tools for a more flexible approach, Medvedev said before today's economic forum in St. Petersburg, Russia's main business event. It will promote its project to double the capacity of a Siberian gas pipeline to Germany to 110 billion cubic meters a year at the event.
Gas-export auctions started last year will be continued, Medvedev said. The company has three types of contracts in Europe, spot-linked, oil-linked and "hybrid," he said. About one-third of supplies "one way or another take into account hub levels," up from approximately 16 percent after the contract adjustments of 2009-10, he said.
"We are watching the market every second," Medvedev said.