Thailand to auction petroleum concessions held by Chevron and PTTEP
Thailand's military government plans to put up for auction petroleum concessions held by Chevron and PTT Exploration and Production (PTTEP), Energy Minister Anantaporn Kanjanarat said on Monday. Chevron's Thai unit holds concessions to operate the Erawan gas field, while PTTEP operates the Bongkot gas field. The two have combined production of 2.2 billion cubic feet per day, or 76 percent of output in the Gulf of Thailand.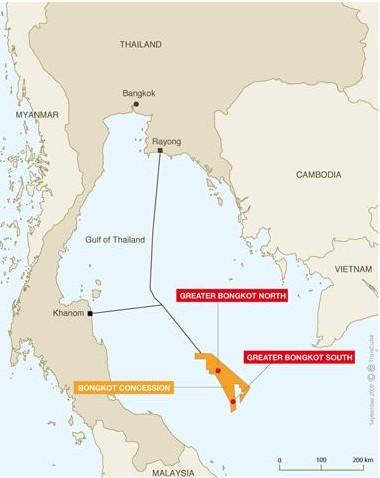 The auction for the contracts, due to expire in 2022-2023, is expected to be completed within a year, Anantaporn told reporters following a meeting of Thailand's energy policy panel. He gave no details of auction timing.
'This is to ensure transparency and we have to listen to opinion from all parties,' he added, referring to the decision to hold the auction, which followed opposition by some activists to a proposal to extend contracts with existing operators. If there are no interested bidders, the government will negotiate extensions with the existing holders, Anantaporn said, adding that the two firms are allowed to join the bidding.
Thailand, which uses natural gas for almost 70 percent of its power generation, may need to import more gas over the next 7 or 8 years to secure its energy supplies, he said.
Existing operators may not invest a lot of money to keep up production after the government decides to invite bids from new investors, which could take longer than negotiating with existing operators, he added. Chevron's Thai unit has said it planned to lay off 800 staff in Thailand this year as it looks to cut $500 million in costs.
The bidding is also pending an amendment of a new energy law, which will add production-sharing contract terms to existing concession contracts by which firms pay taxes and royalties, the minister said, adding the amendment was expected to be completed within the next three or four months.
The military government is struggling to implement a draft energy law approved in late 2015 that will enable it to open a bidding round for new petroleum exploration concessions expected in the second half.