Hungary's industrial production keeps growing
The volume of industrial production grew by 2.4% month on month in Hungary in April, according to preliminary figures released by the Central Statistical Office (KSH). The 12-month index shows a 10.1% increase.
This was the fourth consecutive month this year when IP grew in Hungary. The engine most likely remained vehicle production. The latest figures have already indicated recovery in electrical goods manufacturing, which was the driving force before the crisis. That is clearly a promising sign as regards the sustainability of IP growth.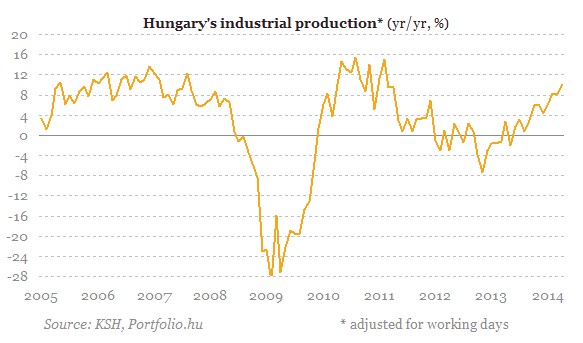 Detailed figures (sectoral breakdown, orders data) will not be available until next week, but we can conclude from the main data that Hungary's industry is in the fast lane. The key driver was vehicle manufacturing and its supplying segments, but it is promising from a sustainability point of view that the electrical goods segment, which was a strong engine of IP growth before the crisis, is also showing signs of recovery. As long as the international business cycle remains in good shape, the industry, thanks to its structure, i.e. primarily to the successful vehicle production portfolio, can remain the key driving force of economic growth.