Install a biogas plant at home and save one LPG cylinder every month
'Big changes start with small steps'. Perhaps this is what Dr Shyam Sunder Aggarwal thought of when he decided to rely on renewable energy fuel to save the environment. Though biogas is not a very popular cooking fuel in Delhi, sexagenarian Dr Aggarwal, along with his family, is encouraging others to go eco-friendly by using biogas for cooking purposes.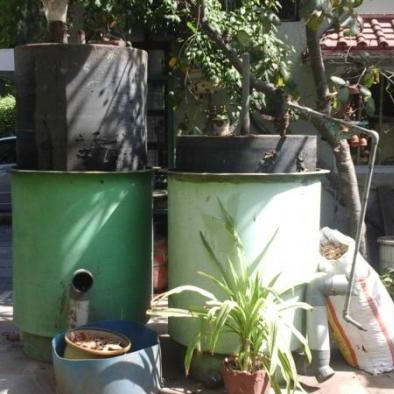 "Biogas has a lot of potential in India as 70 percent population is rural."
Speaking with iamin about the expenditure, he explains, "The initial cost for setting up a biogas plant is somewhere between Rs 15,000-Rs 20,000, and one can recover the cost by saving one LPG cylinder every month." Dr Shyam Sunder Aggarwal, owner of SS Gas Lab Asia, an engineering company which is engaged in manufacturing of industrial plants, C02 tankers, hydrogen gas plants, shares that biogas is a great source of conserving fuel and utilising the waste also.
'Biogas plant has multiple uses'
"The biogas plant is made of F.R.P. material which is resistant to water, sunlight and electricity. If it is taken care off well, it can be used for upto 25 years." Dr Aggarwal set up the plant at his home 4-5 years back. Describing how it functions, he shares, "Everyday, 10 kg cow dung, along with 15 litres of water, is put in the mixing tank. The cow dung is brought from the cowsheds from nearby areas, where the owners want to dispose it anyway. This mixture is fermented inside the fermentation tank by the anaerobic bacteria. The mixture is then converted into slurry through which methane gas and carbon dioxide gas are released," he shares.
They also put kitchen waste into the tank for producing biogas which is used for cooking. The amount of biogas produced can be used for feeding 4-5 members of the family, and 10-15 kg manure is released from the plant everyday which is utilised in their backyard. "The manure released from the plant has optimum amount of nitrogen, phosphorus and potassium which is said to be of good quality," underscores Dr Aggarwal.
Interestingly, SS Gas Labs Asia boasts of being the first chemical plant in the world to extract carbon dioxide from biomass. Also, they have devised a system to separate methane and carbon dioxide, which are the components of biogas, to form calcium carbonate, water and pure methane gas. "Instead of getting carbon dioxide, along with methane, which are released as substrate in biogas, we have devised a technology wherein pure methane gas, calcium carbonate and water are released which have more utility than carbon dioxide," he explains.
Initially, it was Dr Aggarwal's father who had set up Frontier Chemical Works in Rawal Pindi, Pakistan in 1923. It was much later in 1963 that Dr Aggarwal set up S.S Gas Lab Asia in 1963 in India after Frontier Chemical Works closed down in 1962. He designed his first CO2 gas plant in Ranchi in the year 1980 using wood and charcoal.
An entrepreneur to social entrepreneur
Dr Aggarwal has also donated biogas plants at a gaushala (cowshed) in Mathura and Murthal, with the plant costing Rs 7-8 lakh. "The gaushala in Mathura has around 30,000 cows and it would be beneficial there. The methane produced from the plant can be used in generators," he suggests adding, "Biogas has a lot of potential in India as 70 percent population is rural."
Apart from the positive aspects, biogas technology has various constraints too, he mentions. "The gas production is low in winters. This is because, it takes more time for fermentation in low temperature," he points out. In summers, it would take a biogas plant around 3-4 hours for generating the same quantity that would take at least 6 hours in winters.
Summing up, Dr Aggarwal says that he has even encouraged people in his neighbourhood to install this biogas plant at homes. "But in a posh area like Civil Lines, people do not take the pain to collect cow dung and dump in the tank."
For the longer version of the report, click here