OECD slashes growth estimate for Hungary
The Organisation for Economic Co-operation and Development (OECD) projected hardly a month ago that the Hungarian economy will grow by 2.5% year on year in 2016. However, this forecast has been cut sharply to 2016 in the OECD's latest Economic Outlook published on Wednesday. The move comes on the back of disappointing first-quarter GDP data which showed that Hungary's economic output rose by merely 0.9% yr/yr in Q1. However, the OECD revised its 2017 growth estimate upwardly to 3.1%.
Growth to moderate this year
"Growth is projected to moderate in 2016 due to a temporary contraction in public investment as a new cycle of EU structural funds commences, but should pick up again in 2017," the OECD said in its outlook today
In its view, private demand should remain solid and employment should continue to expand, supported in part by the still large public work schemes.
"The disappearance of economic slack and the one-off effects of lower energy prices will push up inflation during 2017," the organisation added.
The slowdown is no surprise, as the OECD projected in its country report published about a month ago that Hungary's economic growth will decelerate this year to 2.5% from 2.9% in 2015. The surprise is the extent of the cut to 1.6%. The rationale does not say but the reason behind this could be the anaemic 0.9% growth in January-March. Meanwhile, the government sticks to its 2.5% growth estimate for this year, although it said it might revisit this prognosis later on.

Highlights of the report:
The OECD expects Hungary's fiscal stance to be broadly neutral in 2016, but says it is set to become expansionary in 2017 even though economic slack will largely be eliminated.
The public work schemes (which cost 0.5% of GDP) should be gradually scaled down as employment opportunities in the private labour market expand, it added.
With rising inflation, the central bank may need to consider moving towards a more neutral policy stance by end-2017.
Productivity growth has been low since the global financial crisis. Broad structural reforms are needed to secure more competitive firms and an adequately skilled labour force. In particular, red tape should be cut and regulatory impact assessments should be better used to improve transparency, stability and formulation of regulatory policies.
The effectiveness of labour market training programmes should be enhanced together with measures to improve vocational training, work-family balance and lifelong learning.
A comprehensive SME strategy could increase economic dynamism and inclusiveness.

Growth is driven by domestic demand
The economy contracted in early 2016, the OECD noted, adding that a major factor was the slower disbursement of EU structural funds in the beginning of the new funding cycle, which has cut public investment.
Business sector investment has also been lacklustre despite an increase in demand, still high business confidence and favourable credit conditions. On the other hand, private consumption has accelerated on the back of rising real incomes and the strength of consumer confidence.
Exports in 2015 benefitted from past currency depreciation, but have slowed in line with the deceleration in export markets.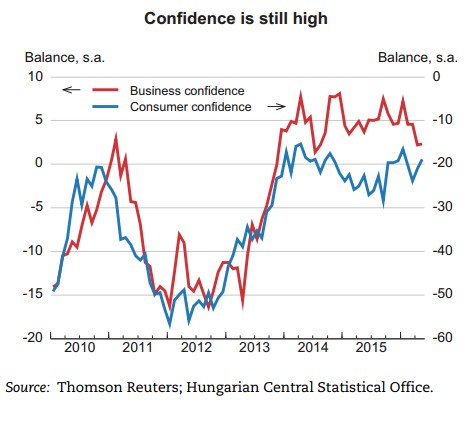 Employment growth is being mainly driven by the private sector, although the expanding public work schemes continue to be an important factor behind the fall in unemployment, the OECD added.
Bottlenecks have started to appear in the labour market and wage growth is increasing.
Inflation is hovering around zero as the result of falling energy prices; core inflation, which removes food and energy, is about 1.5%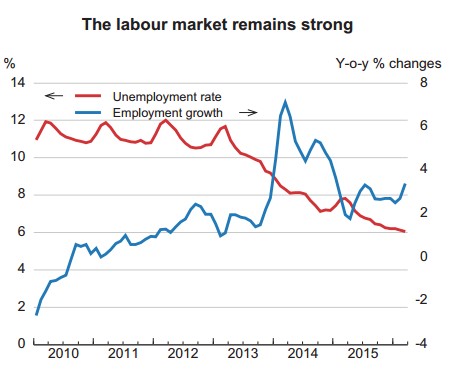 Macroeconomic policies are supporting growth
Although Hungary's fiscal policy stance is now broadly neutral in 2016, it will become expansionary in 2017 as public investment, public wages and housing subsidies are set to rise, the OECD warned.
"However, in view of tightening cyclical conditions, such an expansion could increase economic tensions."
In the first half of 2016, the central bank lowered again its policy rate twice, to 0.9% - a level that the bank judges to be in line with the medium-term achievement of its 3% inflation target, signalling an end to the policy rate cutting cycle.
The central bank's use of unconventional monetary policy is evolving.
The funding for growth schemes, which provide liquidity to banks for SME lending, are being phased out during 2016 and replaced by the Market-Based Lending Scheme where the central bank will assume some of the interest rate risks for loans to SMEs, reduce supervisory risk weights on loans to SMEs, and provide credit data for better risk assessments, the OECD noted.

"While support for SMEs may be helpful in raising economic dynamism, reduced risk weights may lead banks to take on too much risk," it added.

The OECD is not worried in this respect, though, saying that with both monetary policy and supervisory responsibilities, the central bank is in a position to monitor these trade-offs closely.
After a pause, growth is expected to accelerate in 2017
For 2016, economic growth is projected to slow temporarily as public investment contracts, reflecting lower disbursement of EU structural funds at the beginning of a new funding cycle, the OECD projected.

It expects economic activity to pick up during the course of the year and into 2017.
Private consumption is set to expand strongly as real incomes are boosted by
higher employment,
lower personal income taxes,
lower VAT rates on selected products, and
a new family housing programme.
Exporters are expected to continue to gain market shares, which will raise the current account surplus further, the OECD added.
Sustained private employment growth and public work schemes will continue to drive down unemployment.
"Inflation is projected to edge up, despite the reduction in VAT rates, as the temporary effects of lower energy prices run their course and economic slack diminishes."
If the employment content of growth surprises on the upside, private consumption could accelerate further. Likewise, if the measures to advance infrastructure investment are more effective than envisaged, growth could be stronger in 2016.
The OECD also noted that external risks are mostly negative.
A weaker-than-projected recovery in world trade would hurt exports. Financial turmoil in Europe could force the central bank to tighten its policy rate earlier than assumed now. If temporary border controls recently put in place by several countries are maintained, this could hamper the free movement of goods and cross-border labour, hurting Hungarian workers and exporters.
It is interesting that the only estimate OECD has changed was for Hungary's economic growth, whereas the other forecasts for private consumption, public consumption and investment were left on hold. Therefore it is unclear why it revised the GDP projection for this year downwardly. It is possible that the Q1 GDP reading came too soon for the OECD to fully update its model and so it reduced only its growth estimate.