Russia's Ruble falling out of step with oil gives budget a boost
The ruble trimmed a weekly retreat that's seen the Russian currency fall out of step with the price of oil, a trend that stands to bring in extra revenue for the government of the world's biggest energy exporter.
The currency's 0.5 percent slide against the dollar in the five-day period compares with a 1 percent jump for Brent crude, which broke above $50 a barrel this week. The divergence has pushed the ruble's correlation with its main export earner to the lowest in five months while at the same time boosting the value of a barrel of oil in local-currency terms to the highest since September on June 2.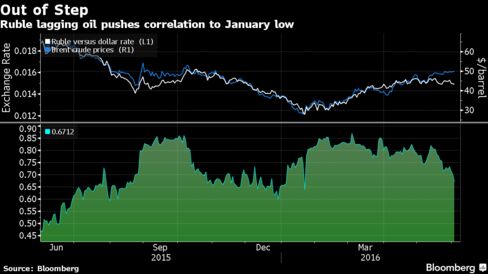 The parting of ways has nudged the ruble price of Brent toward the range of 3,400 to 3,700 per barrel, the level at which the government's revenue will match its spending, according to Vladimir Miklashevsky, a senior strategist at Danske Bank A/S in Helsinki. Russia relies on crude and natural gas for about 60 percent of its export revenue and while the currency's 11 percent appreciation this year is the second-biggest in emerging markets, that's been outstripped by Brent's 34 percent leap.
"If before, the oil and the ruble diverged into an unfavorable direction for the economy, now it's absolutely the opposite," Miklashevsky said by e-mail. "The equilibrium is close, and monetary authorities can relax."
Rate Outlook
A possible resumption of Russian interest-rate cuts as early as next week and the prospect of tighter monetary policy in the U.S. contributed to this week's depreciation, according to Miklashevsky. The combination reduced the appeal of the ruble as a so-called carry trade, which involves investors borrowing where interest rates are low and invest in higher-yielding assets abroad, he said.
The currency erased earlier declines on Friday to climb 1.2 percent to 66.1850 per dollar by 4:01 p.m. in Moscow after U.S. jobs data curbed speculation a rate increase is imminent. Oil in London fell 0.3 percent to $49.88 per barrel, paring the fourth week of gains. The 30-day correlation between Brent and the ruble decreased to 0.67, where 1 would mean the two assets are moving in lockstep. The price of oil in rubles declined to 3.304, after reaching 3,351 on Thursday. That compares with the level of 3,165 on which Russia has based this year's budget.
"Emerging-market currencies are more sensitive now to Fed rate expectations than they are to commodities," Miklashevsky said after the U.S. data came out.
The Micex Index of stocks gained for the first day in four, adding 0.1 percent to 1,892, paring the weekly decline to 1.9 percent. Government bonds were little changed.